As an AFSCME member, you know you always have an advantage at the bargaining table. But did you also know your AFSCME membership can provide you with a big advantage when you shop?
Through the AFSCME Advantage Program, you can secure big discounts on everything from travel to cell phone service.
Free College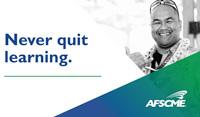 AFSCME Free College brings a degree within your reach. AFSCME and Eastern Gateway Community College are offering the chance to earn an online degree from an accredited school with no out-of-pocket expense. Family members can also take advantage of this benefit. A college degree can be your pathway to new opportunities, greater responsibility and more earning power.